Konica Minolta Opens a Strategic Business Base in France to Strengthen Its Industrial Printing Business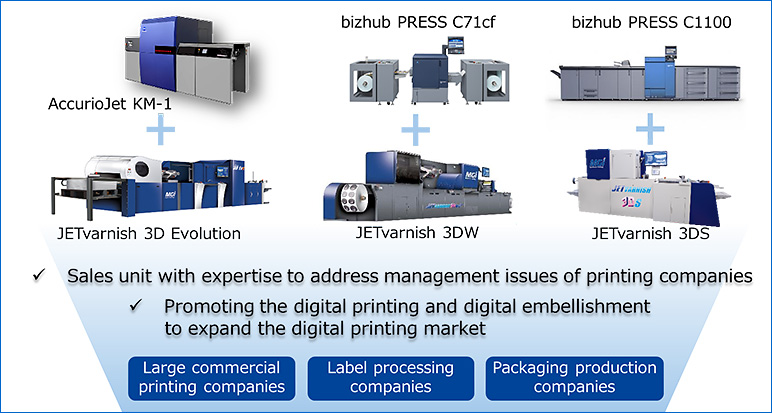 Tokyo (November 7, 2016) – Konica Minolta, Inc. (Konica Minolta) today announced that it has opened a strategic business base in France to facilitate the growth of its industrial printing business.
Established as part of a global management strategy, this is Konica Minolta's first overseas business base in its core business area, where the company will formulate medium- and long-term strategies to strengthen its industrial printing business by evaluating customer value propositions.
Aiming for workflow transformation in industrial printing
Konica Minolta is determined to evolve into a problem solving digital company capable of faciliating workflow transformation with its digital technologies to deliver greater convenience and higher productivity to customers' work processes. The market size of industrial printing, including labels, packaging and textiles, is estimated at 50 trillion yen, which means there is a huge growth potential in the digital printing business. Also, needs for digital printing are increasing as more and more companies turn to marketing strategies that motivate customers to buy using exclusive label and packaging designs.
Konica Minolta aims to deliver new value to the industrial printing industry and expand its digital printing business by leveraging its digital technologies to meet the need for high-mix small-lot production and shorter lead time, and also by offering solutions to enhance efficiency of printing operations.
Developing business in Europe, the center of the industrial printing business, in a customer-centric manner
With a concentration of leading-edge industrial printing companies and manufacturers of related equipment, Europe deserves to be called a global trendsetter in the industrial printing business. With a business base in Europe, the center of the global industrial printing market, Konica Minolta aims to accelerate the development of solutions for industrial printing through a cyclic process of creating new customer values and business models and then evaluating the values and business models jointly with customers. This customer-centric cyclic process, which Konica Minolta has employed as its original framework to evaluate customer values, has been making meaningful contributions to the company's business and technical development in recent years.
In the label and packaging printing industry, digitalized high-mix small-lot production is also expected to largely enhance the efficiency of the post-press process of varnishing, laminating, foil stamping, and die cutting. Konica Minolta will seek opportunities to accelerate open innovation in this field through its existing alliance with MGI Digital Technology (MGI), a leading high value-added digital printing equipment* manufacturer based in France, and also by strengthening partnerships with a number of post-press equipment manufacturers in Europe.
In addition, Europe is main ragion of the world's digital textile printing market as well as Asia, and leads the world in the digitization in printing of wall paper and construction materials. While Konica Minolta has been offering inkjet digital textile printers and inkjet printheads to the European market, the company is confident it can develop new solutions for workflow transformation by being closer to the market.
Expanding business in the industrial printing area to achieve a huge growth
Since launching high-quality, compact production print systems with low capital investment cost in 2003, Konica Minolta has largely expanded the digital printing market in the areas of commercial printing and in-house printing. For over a decade since then, Konica Minolta has created a digital commercial printing market and expanded the scope and range of its business activities, while developing print systems for various usage (from light to heavy) focusing on color printers. As a result, the company has increased the size of its production print business more than fivefold. In this process, Konica Minolta has implemented its own unique measures to strengthen the commercial and industrial printing business ahead of its competitors in the industry. These measures include applying its prowess in inkjet technology to the production print area, launching the Marketing Production Management (MPM) service that helps customers improve the printing process and supports planning and production of high value-added printed materials tailored to specific purposes such as sales promotion, entering into a financial and strategic alliance with MGI, acquiring additional stake in MGI and consolidating the financial results of MGI.
Under its Mid-term Business Strategy, Konica Minolta plans to expand its business by offering new solutions in industrial printing as well as value-added services in commercial printing to achieve its target to increase the total revenue in the production print business to 360 billion yen in fiscal 2020. Especially in the label and packaging markets, various and small-lot production has become available at an accelerated pace. Placing importance on the label and packaging markets that are likely to continue to steadily grow in the future, Konica Minolta has already prepared itself to cater to the needs of this promising market with the official launch of the bizhub PRESS C71cf on-demand label printer and the AccurioJet KM-1 B2 digital inkjet press, as well as by entering into a financial and strategic alliance with MGI.