Plenty of companies need to print documents in order to do business. However, some Des Moines businesses have greater demands than others and that's where production printers fit these specialized needs.
For those that need the highest print volume and quality, MMIT Business Solutions has a stock of production Konica Minolta and Sharp printers. With these machines, you can create a wide variety of documents, including: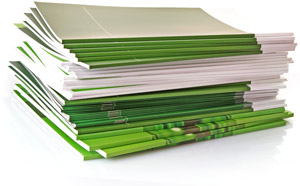 Marketing Materials
Pamphlets
Books
Newsletters
Company Reports
Flyers
Presentations
Features of MMIT's Production Printers
MMIT's production printers come with such features as:
Great dpi Resolution
Our devices' high dpi resolutions ensure that you'll get sharp pictures and legible text on all of your prints.
Energy-Saving Features and Cost-Saving Supplies
MMIT is proud to partner with technological leaders like Konica Minolta and Sharp who are leading the way in developing environmentally responsible equipment and processes. Thanks to these partnerships, we can offer printers with energy-saving modes and other special features that help you reduce emissions and waste.
Also, many of our devices use supplies made from recycled materials. Konica Minolta, for example, offers a recycling program for its consumables. For more details, see the info on our various Konica Minolta and Sharp printers.
Powerful, Convenient Functions
Available production printers have helpful options for managing your print jobs faster and easier. These include:
Job scheduling
Job recall
Profile list for different paper types
Ticket editing
Finishing Options
MMIT's devices give you a diverse set of folding and finishing options, including:

Center-Fold
Letter-Fold In/Out
Gate-Fold
Double Parallel
Multi-Letter-Fold
Multi-Center-Fold
Saddle Stitching
Managed IT Services and Document Solutions
In addition to our selection of production printers, MMIT offers a suite of Managed IT Services in Des Moines as well as Document Management solutions. These will help you get the most from your equipment and streamline your processes.
For specific details on our production printers and support, contact us.