Production Printing: Alive and Thriving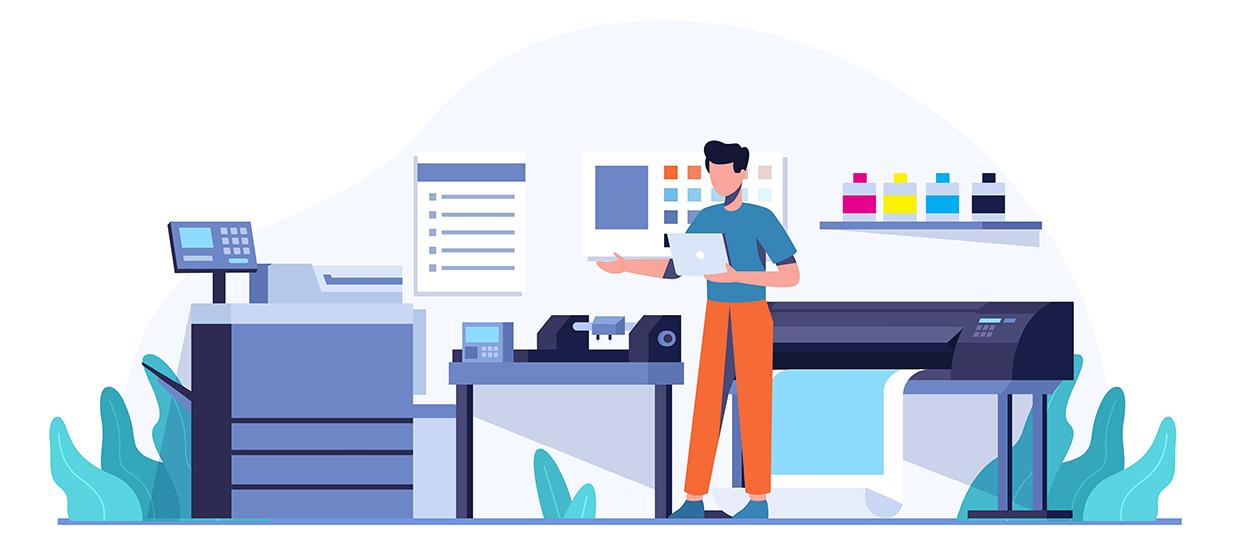 A common misconception is that print is done and while we might be flooded with technology and digital marketing, print still has its place in everyday business and has a significant impact both financially and influentially. Need proof? Check out these stats gathered by printful.com
In 2021, the Global Commercial Printing Market had a value of $433.79 billion. By the end of 2027, it is estimated to value $484.22 billion
1 out of 5 customers is willing to pay up to 20% extra for personalized products and services
A study shows that print advertising offers a 112% return on investment, making it a cost-effective way to reach consumers.
Printer options can seem endless, but there is a perfect fit for every business. If printing plays a large part in your business, and you find yourself needing high-volume projects done quickly and reliably then a production printer might be the right choice.
I know what you are thinking, production printers are found mainly in print shops or copy centers that must deal with high-volume requests without sacrificing quality. This is another common misconception and while they regularly are seen in print shops or centers, they have quickly been growing in popularity for marketing departments and are an optimal option for graphic designers to create and distribute flyers, banners, catalogs, mail campaigns, produce marketing materials, employee training manuals, business cards, envelopes and so much more.
Now, every business has different printing needs and to figure out what is the best option for you, ask questions such as:
What are your printing requirements?
What do you need your printer to do?
Does your printer need to be secure?
How much time do you have to produce?
What exactly do you need to print?
How much are you printing/producing?
How large of a role does printing have in your business?
What device management, remote intelligence, and support are available to you?

Production printers are heavy-duty commercial printers that are ideal for high-volume print projects. These printers can include wide-format and cut-sheet printers, digital presses, commercial printers, and industrial printing. They are reliable and continuously provide higher-quality print resolutions, faster output, and increased capacity. Beyond being versatile and having the ability to handle large-scale products, production printers offer plenty of other benefits including:
Simplicity
Production Printers are not difficult to set up and extremely user-friendly. They give users more control without over-complicating things. Though they look heavy-duty, they are far from intimidating, and even less tech-savvy people can learn and utilize the advanced features in no time.
Productivity
Production printers work faster to help meet the demands of your business. They are designed to be quicker and can handle larger quantity projects more effectively than normal printers which helps eliminate downtime, they have on-demand access to professional projects, and are perfect for printer-intensive businesses with them commonly being able to print thousands of pages in minutes.
Sustainability
Production printers offer high-quality prints where businesses have total control over the content meaning they are printed right the first time. Using older printers can mean settling for low-quality results and can be a cause of reprints and paper waste. Switching to a printer that delivers high quality is a good way to save precious time, money, and paper.
Security
Production printers offer better regulatory compliance, enhanced security over the content within your prints, and achieve better quality control. In-house printers also ensure that any confidential employee or customer information stays in-house.
Flexibility
Since they are reliable and user-friendly, production printers are incredibly flexible, putting you in charge of the entire printing operation. Have control over meeting your deadlines and never panic if something does not look exactly right because changes and a reprint can be easily done within the same day in-house.
Cost Effective
Outsourcing printing, especially high-volume jobs that require quality can be expensive. Production printers are a long-term investment that keeps your service in-house and allows you full control over your product. Giving you this control ensures no reprints, returns, or added time from an outsourced printing agency and that your product is what you expect.
Is It Right For Your Business?
Not every business will benefit from a production printer, but if you find yourself needing a large number of marketing materials or just find yourself printing large quantities often – a production printer could be the best fit for you. If you have any questions or are ready to bring production print in-house, contact us today!