Patch Holes in Your Data & Device Security Strategy
Organizations need to safeguard their data in ever-expanding areas to avoid costly and time-consuming data breaches that can halt operations and result in financial penalties.
Data security is a set of processes, tools, and hardware that is meant to protect your most sensitive data. It is critical today for businesses to have a document and data security strategy as comprehensive as the number of touch points that a company's data passes through.
This is because data is no longer being kept strictly in-house and, in addition to a rise in cybercrime, getting data security right for the common hybrid work environment is critical to the success of business allowing your most important data to be accessed from anywhere at any time from any device securely.
Security To Fit Your Needs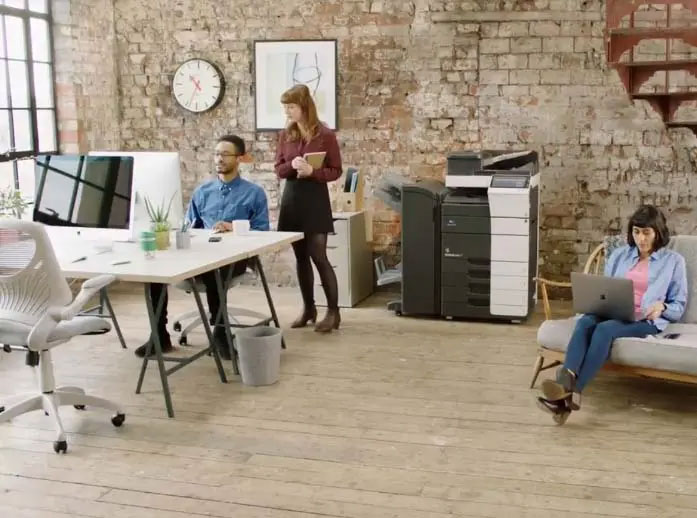 Sensitive information can be breached at several vulnerable points of access in a company's network. MFPs and other endpoint devices can hold resident data that can be targeted for "hacking." Many IT departments may not have the ability to ensure machine security across all devices, so it is important devices be equipped with automated security process capabilities to reduce risk.
We address the risks with tools like hard drive lock passwords, hard drive encryption, automatic deletion of temporary image data, and data overwrite of electronic documents on a timed basis. Unauthorized copies can be identified through their date, time, and MFP serial numbers.
Proper data and device security can have many different aspects and at MMIT we have the knowledge to bring the security you need for the utmost protection for your specific business. Firewalls, backup and recovery tools, antivirus software, intrusion and prevention software, data loss prevention software, cloud security storage solutions, and data encryption tools are just a few solutions that can bring together your unique data and device security strategy.
Exceeding Industry Cybersecurity Standards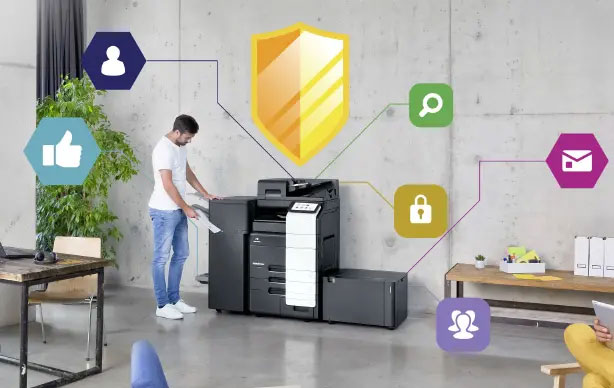 MMIT offers Konica Minolta, Sharp, and Lexmark products that have been put through rigorous internal cybersecurity tests to protect systems and ensure they meet PCI, HIPAA, FERPA, and GDPR regulations.

The Undeniable Benefits of Data & Device Security
Total Threat Protection
Minimize the chance and potential damage of both external and internal threats.
Customer Data Security
Data security is just as important for the consumer as it is for the business. Ensure loyal, long-term clientele by actively establishing the right data and device security for your business, ensuring their important information is also safe.
Authentication Options
A variety of authentication methods such as ID badges and mobile devices assure the protection of personally identifiable information for secure print release.
US Federal Government Support
Using CAC & PIV Card Solutions along with our devices can be an integral part of the secure digital ID solution for the US Federal Government.
Secure Direct Messaging for Healthcare
Instead of unsecured fax transmissions, the Direct Messaging workflow can share encrypted patient information from an MFP to a designated receiver.
Our secure solutions ensure the safety of your data and devices, giving you peace of mind.
For a lot of businesses throughout Des Moines and central Iowa, data is their lifeline, and protecting that data and the devices that hold it is crucial for a business to succeed. Data breaches can be costly, time-consuming, and can be proven to be fatal to a business. At MMIT, our team is able to identify your risks and provide the best solutions to help prevent them and be able to rebound quickly without hurting your business.
IT Security Solutions from MMIT