Recognize and Mitigate Cyberthreats
Modern technological conveniences come with their own host of threats. The criminal masterminds behind cyberattacks are always looking for new ways to compromise businesses, and they often focus their efforts on the end users – your employees and staff. It's as important as ever for companies to arm their staff with the knowledge and tools to recognize and mitigate cyberthreats.
When you transition your company to a digital infrastructure with a cybersecurity system, or upgrade your existing systems, take steps to ensure your employees understand how to work safely. At MMIT, we offer security awareness training for employees to insulate businesses against cyberattacks. This is often an overlooked loophole in any security strategy. Proper employee training amplifies any security effort businesses put in place.
Our regimens educate, train and phish your users to hone their cybersecurity skillsets. These programs foster the safe use of email, social media, company software, data management systems and more through personalized, engaging training methods. Trust our security experts and high-quality IT programs to prepare your staff for new-age threats.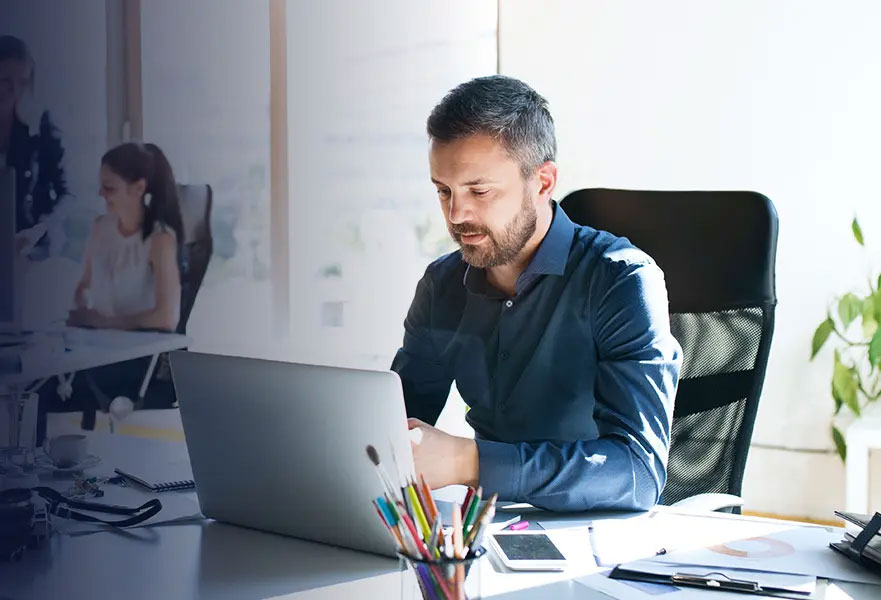 Build a Greater Defense
Security risks and vulnerabilities are everywhere, including your employees. Hackers are using your employees against you to steal your data. How do you make sure that your employees are in fact your greatest defense?
Managed Security Awareness Training reduces your chances for data loss, malware infections and any potential cyber threat by educating your employees and helps to create a human firewall. The best by-product of Managed Security Awareness Training is increased user productivity because users are confident in their education against these potential threats, in turn streamlining their everyday work.
Having well-educated and confident users will amplify your existing security strategy and protect against risks typically associated with social engineering threats. Choose MMIT to access IT security quizzes for employees and other resources that ensure a secure digital workplace, and peace of mind knowing your resources are protected.

Did You Know?
91% of cyberattacks begin with a spear phishing email.
96% of executives are unable to distinguish a phishing email from a legitimate one 100% of the time.
30% of data breaches are caused by repeat offenders.
Services & Benefits
Training
Educating your workforce starts with employing effective training methods. We've developed modern digital training programs that use on-demand, interactive, and engaging computer-based training instead of old-style PowerPoint slides.
Awareness modules and videos should educate users on how a phishing or social engineering attempt could happen to them, as well as how they should respond to a breach. Our IT training programs resonate with users to deliver a message that lasts.
Testing
The MMIT employee security training programs start with baseline testing of your entire user base. We provide additional testing at least once a month that tests your staff to reinforce the training and continue the learning process.
Insulating your company against modern security threats requires flexibility from your staff and patience from management teams. You are trying to train a mindset and create new habits, and it takes a while to set that in motion. Simulated social engineering tests at least once a month are effective at changing behavior.
Measured Results
The experts at MMIT want to ensure that your company can see tangible benefits from our training programs. Our digital security management systems have the ability to report on the training and testing of the users. Track how your workforce responds to both training and phishing with actionable data that helps management visualize progress and plan for the future.
Increased Productivity
When your employees are confident and comfortable understanding how to look for potential threats, they can perform their tasks with ease. Our training regimens get new employees up to speed while helping longtime staff members adapt their habits to face new cyberthreats.
Build the ultimate defense by recognizing and mitigating cyber threats.
At MMIT we offer Managed Security Awareness Training to help reduce your risk of any potential cyber threats through employee education and training for businesses throughout Des Moines and central Iowa. About 88% of cyber attacks are due to human error but our training helps educate and train users on how to sharpen their cybersecurity skill sets which will allow them to remain confident and productive with the safe use of email, software, data management, and more.
IT Security Solutions from MMIT