In today's business world, you need to stay efficient. You can't afford to get bogged down in mundane tasks. You need to handle jobs as quickly as possible and move on to the next ones.
Outstanding Efficiency for Your Workplace
At MMIT Business Solutions Group, we have the Konica Minolta, Lexmark and Sharp equipment to make staying efficient easy. Our multifunction printers (MFPs) in Des Moines enable you to perform multiple tasks from a single device. You'll be able to cut down on your printing expenses and share information with others quicker than ever.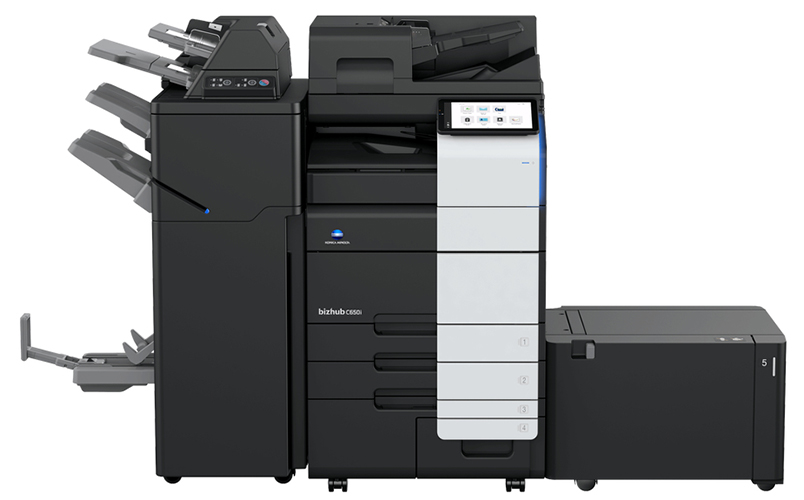 ---
MMIT Printer Survey
Our 2 minute survey gathers details on how your business uses MFPs and what your specific needs are, resulting in us providing you with a tailored range of options.
---
Features of MMIT's Multifunction Printers
MMIT's multifunction printers—sometimes called all-in-one printers in the industry—have four main features:
Print
Our MFPs can give you hundreds of error-free prints within minutes. Their sturdy, innovative design allows you to save energy and resources while having the ability to print more than 100,000 pages each month.
Copy
MMIT's multifunction printers in Des Moines enable you to produce copies that retain all the qualities of your original documents too. Some available models come with magnification and other editing features as well as duplexing to help you conserve paper.
Scan
Our MFPs have document scanning capabilities that allow you to scan to a variety of formats and locations. These include:
Email
JPEG
PDF
XPS
USB
Network Folders
Secure
Searchable
Fax
Once you scan a document, you can also fax pages in seconds.
---
We carry MFP devices from leading manufacturers like Konica Minolta, Lexmark, and Sharp.
---
Managed IT Services and Document Management Solutions
MMIT doesn't stop at selling devices to your business. We also provide the necessary IT support; including a broad range of document management solutions and IT Services, Des Moines businesses rely on to help increase efficiency even further. Check out a small assortment of our available solutions below: